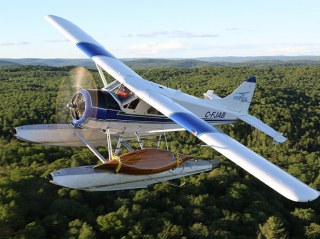 DHC-2 BEAVER
Fleet
DHC-2 Beaver is the best bush plane ever built!
Designed as a floatplane for Canada's wilderness, Canadian industry celebrated the 50th anniversary of the Beaver in 1998 and named it one of the greatest achievements of the 20th century
Our Beaver is very comfortable in VIP version 6 pax, it can however accommodate up to 8 people, plus 2 luggage compartments in the floats (floatplane). Headsets for all is very appreciated to hear and discuss with the pilot
Wing span 52 pi
Empty weight 3300 lb
Max weight 5600 lb
Cruise speed 110 kts/215 km/h
Engine Pratt et Whitney de 450 cv.
Max pax 7
Our Packages
Hydravion Aventure Inc.
Address: 410 AVENUE RINGUETTE SAINT-ÉTIENNE-DES-GRÈS QC G0X CANADA